Profile of Prof.J.D. Owusu Sekyere
Profile of Prof.J.D. Owusu Sekyere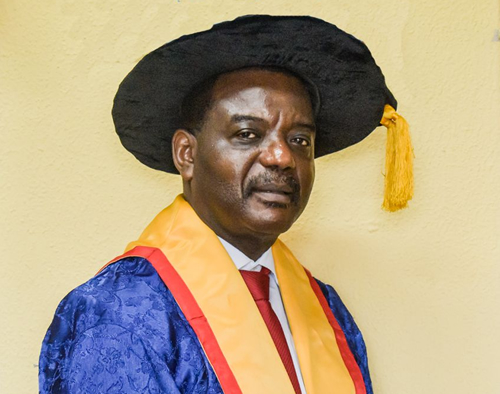 Born at Ashanti Mampong, in the Ashanti Region of Ghana, Rt. Rev. Ing. Prof. Joshua Danso Owusu-Sekyere is the first substantive Vice Chancellor of the Cape Coast Technical University.
He attended Adisadel College where he obtained his "O" and "A" Level Certificates after his primary education. He proceeded to the Kwame Nkrumah University of Science and Technology where he completed his B.Sc in Agric. Engineering in 1990, and was appointed a Senior Research Assistant in the Agricultural Engineering Department of the University of Cape Coast, in 1992.
In pursuance of his academic laurels, Professor J.D. Owusu-Sekyere attained a Certificate of Proficiency in Chinese Language from the Beijing Language and Cultural University in 1995, and earned his M.Sc. in Irrigation and Drainage Engineering, and a Post Graduate Certificate in Project Management from Hohai University in Nanjiin, also in China, in 1998. He holds a PhD. in Agricultural Engineering from the Cranfield University in the United Kingdom (UK) (2005).
Professor J.D. Owusu-Sekyere progressed academically when he joined the Department of Agricultural Engineering in the University of Cape Coast (UCC) as a Senior Research Assistant. He rose through the ranks of an Assistant Lecturer (1998-1999), Lecturer (1999 - 2007), Senior Lecturer (2007-2010), Assoc. Professor (2010 – 2012), and became a Full Professor with Ph.D.
Between 2008 and 2015, Prof. Owusu-Sekyere served at UCC in numerous capacities in the Department of Agricultural Engineering as a Head of Department, Acting Vice- Dean, and a Vice Dean. He then got an appointment as a Rector of the Perez University College between 2016 and 2018, where he exhibited excellent performance whilst on Sabbatical Leave from UCC.
While in UCC, Prof. Owusu-Sekyere served on several Boards and Committees, either as a chairman or a member. Notably amongst them are: College of Agriculture. and Natural Sciences Appointments and Promotions Board; Executive Committee ,Academic Board; Collegiate Committee; School of Agriculture Research Team; Executive Committee, Ghana Society of Agricultural Engineering; Farm and Technology Village Management Committee; Academic Planning and Management Committee; College of Distance Education Board.
He has also served on the Independent Council of Private Universities, the Director of Mosaic Missions, Ghana (NGO) and Associate Editor, Journal of Basic and Applied Sciences
Additionally, Prof. Owusu-Sekyere engages himself in consultancy services and had been a Teamleader in the Institutional Evaluation for World Bank Centres of Excellence, a Team Member in the Development of E-Learning Curricula for Food Safety and Quality Assurance (GIZ, FAO and STD Funded Project: (2012-2014), and a Proposal Evaluator for World Bank Africa Centers of Excellence in Southern and East Africa.He created a niche for himself as a Principal Investigator in a USDA Funded project in Promoting the Incorporation of Soybean Cake into Poultry Feed in Ghana (2014-2016).
As a member of the American Society of Agricultural and Biological Engineers, Ghana Institution of Engineers, and the Ghana Society of Agricultural Engineering, Prof. Owusu-Sekyere has attended courses, workshops, seminars, and conferences globally and has several Publications, Journals, and Edited Conference Papers to his credit. His research interests are: Water Table Control for Crop Production; Deficit Irrigation; Climate Change and Crop Water Use; and has conducted extensive research on Water Saving for Agricultural Production. He presented his Professional Inaugural Lecture on the topic: "In the Abundance of Water the Fool is Thirsty", and has also supervised several postgraduate and undergraduate students in his field of study.
Following his pronounced accomplishments in academia, Prof. Owusu-Sekyere was awarded a Chinese Government Scholarship (1994-1998), the Best Foreign Student Award in Hohai University (1997), a Ghana Government Scholarship (2001-2005), and the prestigious 2nd Prize of the Graduate Student Presentations in Cranfield University, UK (2004).
Rt. Rev. Ing. Prof. Joshua Danso Owusu-Sekyere is a practicing Christian and a servant of God. He served as a Pastor of Harvest Chapel International, UK, and Harvest Chapel, UCC. He became a Senior Pastor at the Word of Faith Mission, in Cape Coast, and currently an Overseer of the Word of Faith Mission, Ghana.
He is married to Mrs. Bernice Owusu-Sekyere and together they have two (2) adorable girls: Pearl and Crystal