Profile Of The Registrar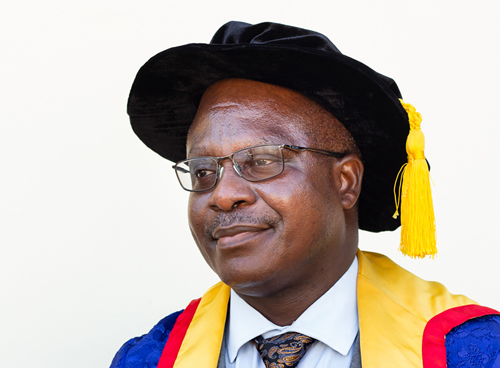 Dr Francis Narh Akrono, (born in 1966), assumed office as the First Substantive Registrar of Cape Coast Technical University, Cape Coast, Ghana. Having worked as Deputy Registrar in the Institute for Educational Research and Innovation Studies (UEW) for over a year. Starting from a humble beginning as a Senior Research Assistant, (Demography Unit), University of Cape Coast (1999 - 2001), he rose to become a College Registrar (Deputy Registrar), Ajumako Campus of the University of Education, Winneba (2014 – 2018).
He has spent most of his working years in the University of Education, Winneba, working as Acting Deputy Registrar, (Registry) Ajumako Campus, (2010 - 2014); Acting Deputy Registrar, Division of Human Resource (2010); Senior Assistant Registrar, Employee Relations, (2008 – 2010) and; Assistant Registrar Employee Relations, (2003 - 2008).
Prior to his appointment into the tertiary institution, he was a Headmaster and a Tutor at the Bethel Presbyterian School at OLA Estates, Cape Coast, and the Prestea Goldfields Schools.
Dr. Akrono obtained his GCE "O" and "A" Levels at the St. Mary's Boys' Secondary School, Apowa – Takoradi, and Nsein Secondary School, Axim, respectively. His Tertiary Education spanned from 1995 to 2019 with a Diploma in Economics, Bachelor of Education (B.Ed. Foundations), M. Phil, Development Studies (Human Resource Development), and a PhD in Development Studies, all from the University of Cape Coast.
Additionally, he holds an Executive Certificate in Public Administration from the African Centre for Capacity Building (AFCAB), a Postgraduate Diploma in Monitoring and Evaluation from the Stellenbosch University in South Africa, and an Advanced Executive Certificate in Human Resource Management from the Pan African Institute for Leadership and Governance Studies.
Due to his Professional Competence, Dr. Akrono was adjudged the Best Administrator of the University of Education, Winneba in 2011, and became an IREX Scholar, University of South Carolina in the 2012/2013 Academic Year. He has served on several boards and committees either as chairman, secretary, or member, and has copious publications and research works to his credit. He has also participated in a lot of training workshops and conferences in the University settings, and is a member of identified professional bodies.
His current research interests include:
Cost implications of staff turnover in the Higher Educational Institutions in Ghana.
Performance Appraisal of non-teaching staff in Public Universities in Ghana: Perception and Usage.
The Impact of Small-Scale Gold Mining (Galamsey) on School Attendance at Prestea and Bogoso.
Linkage patterns in the growth of small scale enterprises in the Cape Coast Municipality.
Evaluation of the Mentoring Scheme for Female Senior Members in the University of Education, Winneba.
Implementation of the human capital development strategies in the publicly-funded universities in Ghana: Myth or Reality.
He is a devout Christian and a counsellor. He is married to Mrs Benedicta Leonora Akrono and has 4 lovely children.